• Britt Wiggins • Whoopie Pie Business Update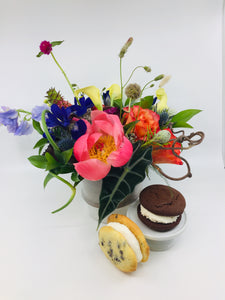 What could make a better gift than flowers and whoopie pies delivered straight to someone's door?!  We sure can't think of anything!   We're beyond excited to announce our newest partnership with Harmon's & Barton's of Portland and Westbrook.  Harmon's & Barton's is known all over Southern Maine as the highest quality florist with the very best and freshest flowers around, so it only makes sense to pair their beautiful arrangements with the freshest and best whoopie pies Maine has to offer! Local Mainers can now order breathtaking flowers with a side of gourmet whoopie pies for same-day delivery in Harmon's...
---
• Britt Wiggins • Whoopie Pie Business Update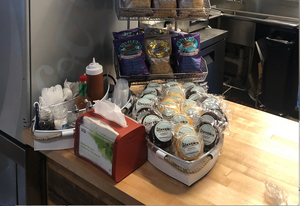 It wasn't long ago that we broke the news about our delicious Maine whoopie pies heading to California to our exciting new retail partner.  We are so pleased to share with you that Wicked Maine Lobster, known for their outrageously good Maine lobster rolls, has partnered with Cape Whoopies to share Maine's finest foodie delights!  You can find Wicked Maine Lobster at the Little Italy Food Hall and the Liberty Public Market in San Diego, with new locations coming soon to Los Angeles.  You might also see them pop up at a number of popular events and festivals.  Make sure to check...
---
• Britt Wiggins • Whoopie Pie Business Update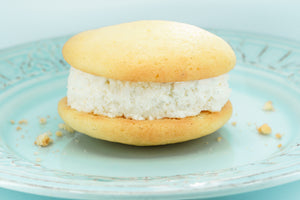 Cali or BUST!!! We are SO excited to share the big news that folks living in Southern California will soon have a new spot to buy the most delicious Maine whoopie pies!  You can always ship our delicious desserts across the country, but having them available for purchase locally will make it just that much easier to curb your whoopie pie cravings at a moment's notice.  We're keeping the exact location a secret until Cape Whoopies have officially arrived, but don't you worry...it's happening very SOON!  And we can at least tell you that you'll be able to find these awesome Maine desserts at the Little...
---
• Britt Wiggins • Whoopie Pie Bakery • Whoopie Pie Business Update
For Immediate Release    Grand Opening Planned for Cape Whoopies and Rwanda Bean Company's New Whoopie Pie Bakery and Flagship Coffee Shop in South Portland, Saturday, June 30, 2018  Public Being Asked to Name a NEW Cape Whoopies Flavor    South Portland, Maine - June 11, 2018. One of Maine's newest business partnerships is inviting the public to attend a Grand Opening of it's South Portland whoopie pie bakery and coffee shop Saturday, June 30th. The special celebration and ribbon cutting will begin at 9:30 a.m. with South Portland Mayor Linda Cohen and other special guests and friends. Throughout the day there will be special...
---
• Britt Wiggins • Whoopie Pie Bakery • Whoopie Pie Business Update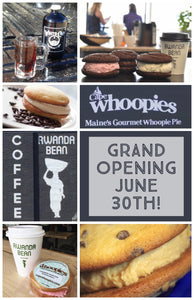 Announcing the 💫 OFFICIAL GRAND OPENING 💫 of Rwanda Bean Company and Cape Whoopies, Maine's Gourmet Whoopie Pie at 185 Cottage Road! 🎉🎉🎉   On Saturday, June 30th, we invite you to join us in celebrating the grand opening of our highly anticipated coffee shop, flagship roastery, and whoopie pie bakery collaboration. We'll be open from 6 am to 6 pm, serving up the best coffees, cold brews, and gourmet whoopie pies to ever hit South Portland, Maine! While our official ribbon-cutting ceremony is scheduled for 9:30-10am (with Mayor Linda Cohen in attendance), visit us throughout the day for all sorts of tasty treats, including White Cap Coffee cold brew...