• Britt Wiggins • Seasonal Whoopie Pie Flavors • Whoopie Pie Fun
Before planning your summer travel in 2020, you should definitely take a look at any restrictions that might be in place, since some states have strict self-quarantine rules and those rules are changing on a daily basis.  Now, all that being said, we think Maine should be your #1 choice for a summertime getaway! Why, you might ask?  We'll tell you! 1. By its very nature, Maine is socially distanced. It's almost like we invited the phrase. There's plenty of open space here to enjoy nature, breathe in the fresh air,  and take in your beautiful surroundings without totally bursting you and your loved...
---
• Britt Wiggins • Seasonal Whoopie Pie Flavors
It's that time again!  Fall is a magical season, splashing vibrant colors across our beautiful Maine landscape and bringing us cooler temps worth busting out our coziest sweaters for. Known otherwise as "pumpkin season" to many, autumn promises pumpkin spice lattes on every corner, pumpkin cakes, pumpkin butter, and without question, our absolutely irresistible Drunkin Punkin Whoopie Pies, featuring pumpkin cakes with decadent amaretto cream.  If you live or visit near Portland, Maine, make sure to stop by our whoopie pie bakery at 185 Cottage Rd. and you'll also find these festive treats in person. Peek through the glass windows in the hall and...
---
• Britt Wiggins • Seasonal Whoopie Pie Flavors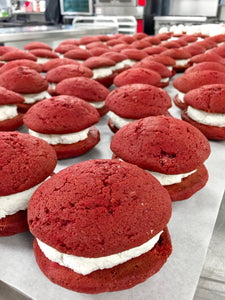 Still can't decide what to bring to your 4th of July BBQ?  We've got you covered! These beautiful red and white whoopie pies aren't only festive looking, they're outrageously delicious and make the perfect party treat.  Ship a dozen of our Wicked Loby Love red velvet whoopie pies straight to your party and you'll be celebrating Independence Day in true foodie fashion.  These red velvet cakes remind us of a tasty Maine lobster cooked up to perfection, paired with our classic vanilla cream.   You might also find these all-American desserts mixed in a box of Cape Whoopies Surprise, an assorted box of gourmet whoopie...
---
• Britt Wiggins • Seasonal Whoopie Pie Flavors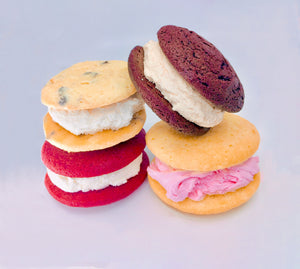 Introducing our very beautiful Maine whoopie pie flavor collection for Easter 2019!  This year's Easter Surprise Whoopie Pies assortment includes four of our longtime heavy hitters.  We've got BROMANCE, with chocolate chip cakes and our classic vanilla cream, STRAWBERRY SHORTCAKE, featuring vanilla cakes and strawberry cream, MARYLOU'S FAV, with chocolate cakes and decadent peanut butter cream, and VELVETY RED, our red velvet cakes with that famous vanilla cream.  This springtime favorite collection will make the perfect Easter gift - just pop a few of our most delicious whoopie pies into your loved ones Easter basket and they'll forget all about those sugary...
---
• Britt Wiggins • Christmas • Seasonal Whoopie Pie Flavors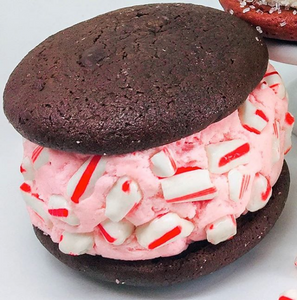 We can't believe there are only 10 days left until Christmas 2018!  This holiday season has really flown by, and this year's Christmas Surprise Whoopie Pies have already been a huge hit, and may we dare say, the best foodie gift of 2018!  Whether you need last-second corporate gifts, secret Santa gifts, family gifts, kids gifts, gifts for her, or gifts for him, these delicious whoopie pies from Maine are the perfect choice for just about anyone.  With just the right amount of sweetness, loads of flavor, and an assortment of beautiful colors, these Christmas desserts will put a smile on anyone's face this...