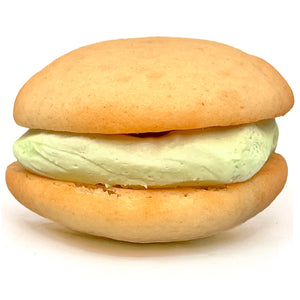 Lime in Da Coconut Whoopie Pies
Regular price
$45.95
$0.00
Includes 2-Day Shipping in the Continental US
Coconut Cakes With Lime Cream
From the minute go you KNOW that coconut and lime is going to be a taste to remember. We're bringing the taste of the tropics to Maine! This delightful whoopie pie flavor combination sports a rich coconut cake with all the depth that coconut can muster. It's the beach, it's all that summer has to offer. Do you remember those days lounging on the sand with a hint of coconut in the air? We do, too! This coconut cake with its favorite tart companion brings all that back to you. But, the best part of all is that you can remember summer in the middle of winter, just by cozying up with one of these babies. 
The tart and tangy lime cream boasts lime zest and as much lime juice as we can get to stay inside the sweet coconut cakes. The subtle depth of the coconut allows the lime to sing out loud for all to hear. We're pretty sure you'll always keep this flavor combination in your list of favorites!
Ingredients in our Lime in the Coconut Whoopie Pies:
Marshmallow fluff, butter (cream, salt), enriched unbleached flour (wheat flour, malted barley flour, niacin, iron, thiamine, riboflavin, folic acid), sugar, lime juice, egg, cream cheese (milk, cheese cultures, salt, guar gum), baking powder (sodium acid pyrophosphate, sodium bicarbonate, cornstarch, monocalcium phosphate), vanilla extract (water, alcohol (35%), sugar, vanilla bean extractives), salt, water, organic ethyl alcohol, natural flavors.