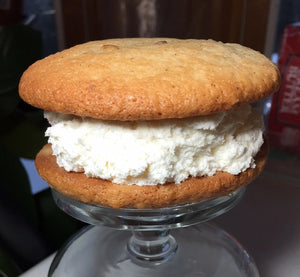 Crazy Nut Job Whoopie Pies
Regular price
$45.95
$0.00
FREE 2-Day Shipping in the Continental US
Walnut Cakes With Frangelico Cream
The buttery richness of walnuts top the list of the ingredients in the cakes of our Crazy Nut Job Whoopie Pies. There are almost more walnuts in these cakes than there is flour! The walnut cakes are made with brown sugar, butter and cream cheese, along with the cage free eggs and flour. We want the perfect background for our Frangelico cream filling. So if you are wondering why would we call these cakes The Crazy Nut Job? Well, the cakes are filled to overflowing with walnuts and the filling is Frangelico cream, which is hazelnut flavored liqueur. So, it's a nut extravaganza! If you love nuts you'll be crazy for these gourmet whoopie pies. Fluffy, light, nutty and delicious!
The Frangelico cream filling is deep and rich and nothing short of a perfect compliment to the crazy walnut cakes. The filling has a subtle creaminess that, when in combination with the crazy cake will surely make you swoon! So, if you're crazy for nuts, you're going to love this one! 
Here are the ingredients:
Walnut Cake Ingredients:  sugar, cage free eggs, butter (cream and salt), flour (unbleached hard wheat flour, malted barley flour, niacin, reduced iron, thiamin mononitrate, riboflavin, folic acid), cream cheese culture, whey protein concentrate, walnuts, salt, guar gum, carob bean gum), baking powder (sodium acid pyrophosphate, sodium bicarbonate, corn starch and monocalcium phosphate), vanilla, salt.  Fangelico Filling Ingredients: sugar, water, butter (cream, salt), cage free egg whites, Frangelico, modified corn starch, tapioca flour.